Customers We Already Helped
Trusted by 10000+ companies of various industries in the United States!
"We have found SmartTraining to be a vital partner in establishing a workplace cultural of safety and security. As a scientific instrumentation provider, we have very specific needs that required substantial customization of the training modules and the drafting of new modules. SmartTraining made this process not only easy and efficient, but yielded modules that are OSHA current and pleasant to view. We have also found your module format to be most effective in ensuring employees learn the all-important safety principles. In using SmartTraining for the training modules and the drafting of our Workplace Safety Manual, you have saved countless hours of now unnecessary resources in trying to keep track of the continuous stream changes and updates to OHSA's workplace guidelines. We appreciate your partnership and look forward to many more years of success in providing the safest possible workplace for our valued employees."
Tom Tague, Ph.D.
Applications Manager
Bruker Scientific, LLC
Level up your learning with our customized courses
Here are the top benefits why Smart Training is the ultimate choice of your custom content creation.
Full cycle content creation
We deliver your training courses from scratch including design, content, development and support.
All time access to resources
Users can access all kinds of training materials even after the completion of the course.
Meeting specific needs
Our team of experts create courses that cover your industry's pain points.
Why Choose Us?
We understand that each business is unique with different requirements, and that's why we provide multiple options to create the perfect training solution.
We don't just create content, we plan for the entire lifecycle of the material — from a solution concept through design, integration and testing in a client's system.
Make Learning a Smart Experience!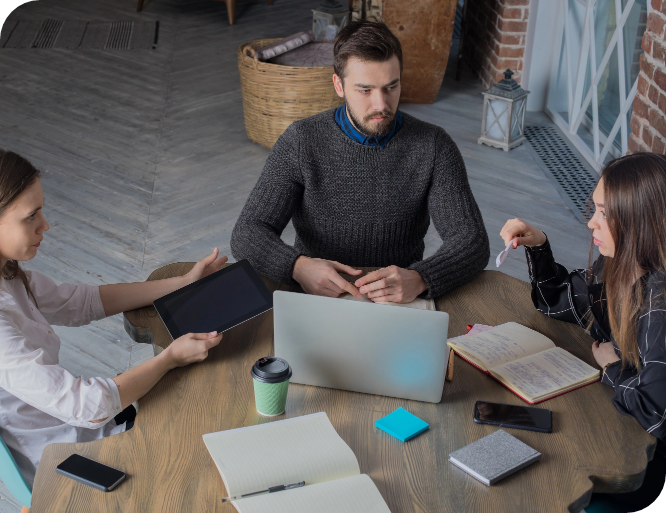 Human resources
• Recruiting, hiring and onboarding employees
• Developing company culture
• Employee code of conduct
Construction
• Construction equipment safety
• Construction cost estimating and cost control
• Construction scheduling and planning
Manufacturing
• Inspection and quality control in manufacturing
• Manufacturing process analysis
• Manufacturing systems
Sales
• Lead generation strategies
• Customer service skills
• Conducting sales calls and product demos
HoReCa
• Sustainable tourism
• Food and beverage management
• Hotel management: Distribution, revenue and demand
Education
• How to create leading educational environment
• Designing effective learning systems
• Integrating new tools and technologies in education
Human resources
• Recruiting, hiring and onboarding employees
• Developing company culture
• Employee code of conduct
Construction
• Construction equipment safety
• Construction cost estimating and cost control
• Construction scheduling and planning
Manufacturing
• Inspection and quality control in manufacturing
• Manufacturing process analysis
• Manufacturing systems
Sales
• Lead generation strategies
• Customer service skills
• Conducting sales calls and product demos
HoReCa
• Sustainable tourism
• Food and beverage management
• Hotel management: Distribution, revenue and demand
Education
• How to create leading educational environment
• Designing effective learning systems
• Integrating new tools and technologies in education