Are You For A Better Way To Train?
Smart Training's Learning Management System reduces the effort required to create and deliver training. Employees can access our software from anywhere, and you can train new employees as they join your team.
Make Learning a Smart Experience!
Our Features
How It Works
Create, deliver and track your training!
Create
Upload any type of content into the system, and it becomes a mobile-friendly course.
Deliver
Course delivery in Smart Training's LMS is via asynchronous online courses.
Track
Track user progress and see the status of each user through reports.
Main Benefits of Learning Software
Flexibility
Each user can begin and complete courses on their own schedule.
Once a user has been assigned a course, they can start it at any time, from anywhere.
Scalability
Our software can scale to any size project and adapt to an increasing number of users and courses.
No limit on the number of courses, tasks, events and surveys.
Tracking & Reporting
Track the training progress of the users through our system.
Administrators can see the status of each user through reports.
Content Creation
Upload training in whatever format you have created. Our system will convert your file.
We can convert MP4 videos, PowerPoint slides, and PDF documents into training courses.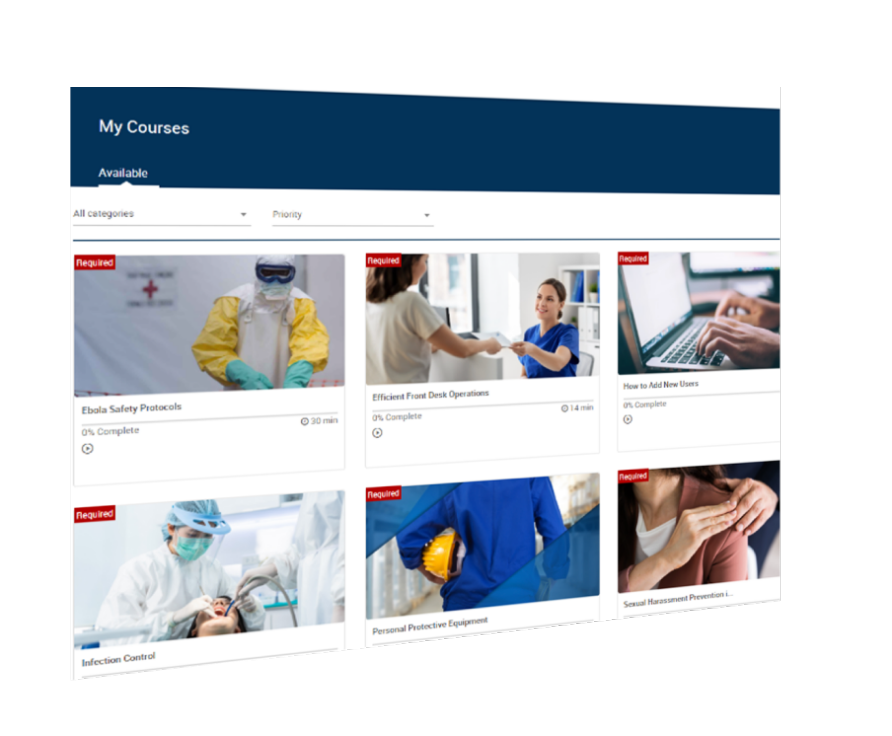 Training is an essential element to creating engaged, educated employees. Proper training gives workers the knowledge to perform their job responsibilities and the understanding of the associated standards expected.
Well-trained employees are more confident in their jobs. With training, workers can enhance their competencies to improve their performance. This learning model helps to fulfill your organization's vision of helping people realize their potential.
Because it's robust and easy to use, our LMS actually increases employee accessibility to training. Our LMS hosts your training, generates completion certificates, tracks team member progress and notifies you when tasks are completed.
With Smart Training's LMS, you just need to upload any type of content into the system and it becomes a mobile-friendly course. And not only courses but also tasks, events, surveys management and a lot more!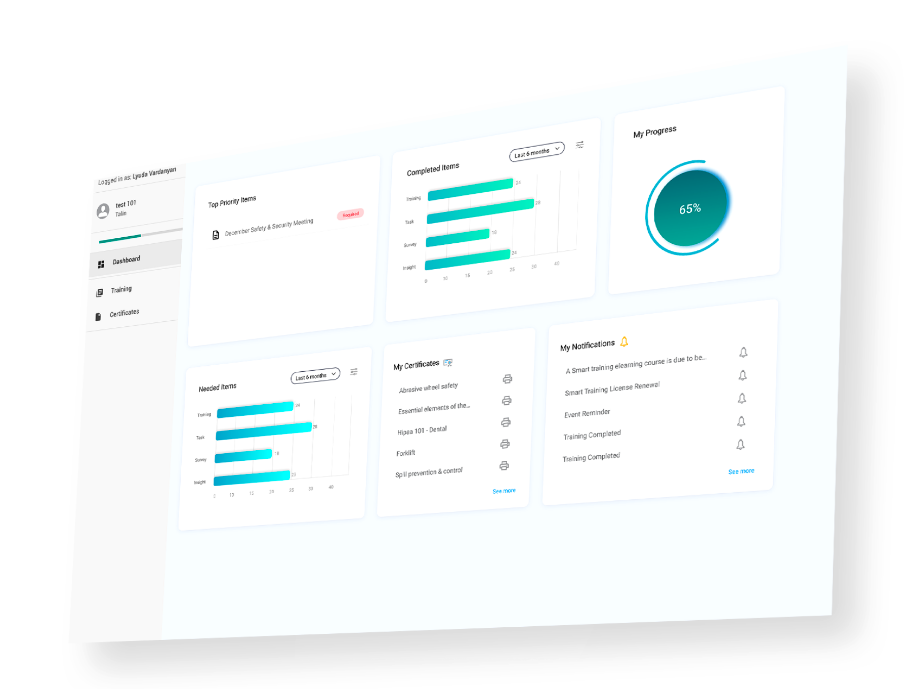 E-Learning Statistical Facts
Believe that e-learning helps them increase their competitive edge by keeping up with the changes in their particular market.
Chose to create an online program because they already provided an on-campus program in the subject area and wanted to extend it to online students.
E-learning takes 40% to 60% less employee time than traditional education.
LMS Pricing
Our LMS pricing was created to help instructors and businesses of all kinds to create and educate for any setting or user size.
User is 1 login that can take the courses you created.
Courses are the training classes/modules.
Sufficient storage is included for typical course size, additional storage available if needed.
* Additional Users, Courses and Storage available for $500/month (paid annually) for each additional 1000 Users, includes +50 added courses and storage.
* Call if you need a Custom Plan Tailored to Your Organization.
Smart Training's LMS easily integrates with the Business Systems you already use.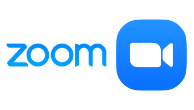 Our Clients
Trusted by 10000+ companies of various industries in the United States!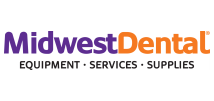 What our customers say
Explore why 10,000+ clients choose Smart Training every day to train their employees!

"With over 50 locations and thousands of employees, we rely on Smart Training to ensure that our employees are appropriately trained before starting. This allows our plant management to focus on income-producing tasks rather than micromanaging the training process."
AZZ Galvanizing (NYSE: AZZ)
"We have used Smart Training to deliver a combination of custom and premade training courses to our users for many years. We love how easy it is to manage the assigning of training and report on training statuses at the click of a button."
Dallas County Dental Society

"Smart Training has been a go-to resource for our 24 dental practices, our main support for training, accountability through reporting, and a way for us to actively manage the ongoing communication needs of our practices."
P4D (Partnerships For Dentists)
North Texas Family & Cosmetic Dentistry
"With the ever-increasing governmental regulations, requirements, and ongoing changes, I was looking to find a competent and all-encompassing solution to stay ahead of OSHA and HIPAA compliance issues."
"I use Smart Training because I care too much about my patients to settle for less than the highest standards. It's a full-time job to remain compliant. I get full-time help for a fraction of the cost. They really make it that easy."
Shad Hattaway
Dallas Country Dental Society
"We were looking for a training provider that could deliver custom made and internal courses for our aerospace company to aid in all the tracking and training required to stay compliant. Smart Training not only provided that but provided communication avenues for course renewal requirements, ease of training reports as well as task assignments and their customer service is unequivocally top notch"
Faylene Ahlers
EHS Officer
Asco Aerospace USA LLC
"Smart Training has taken so much off my plate and helped my team get organized. I am so appreciative of their service and so glad that others will get to benefit from it now as well!"
Dr. Jill H Sentlingar DDS, FAGD
Texas Dental Association Member
"Smart Training is comprehensive with their most up-to-date training. The regulations could be confusing, but Smart Training simplifies the training while the practice focuses on patient outcomes. The services you receive from them are up to par because they go above and beyond. Not only is our staff fully trained we also get CE credits. The training is engaging, and we don't have to close down the office to train; this helps increase revenue and maximize productivity. We are impressed by their virtual office inspection to help prepare us for any unannounced OSHA audits."
Dr. Kenneth Osamor, DDS
Texas Dental Association Member
President at Texas Dental Group
Multiple Fellowships with the International Congress of Oral Implantologist (ICOI) and California Implant Institute.
Join the 10,000+ organizations that already use Smart Training.
Try out our Learning Software for yourself for free.
Start a Free Trial