Main Benefits for Dental Offices
Compliance Made Easy
Smart Training's LMS automates compliance and removes the guess work. Our courses and safety programs are updated within days of law changes so you can be confident your office is staying up to date with the ever changing requirements of OSHA and HIPAA.
Create Custom Content
Upload training in whatever format you have created. Our system will convert your file.
We can convert MP4 videos, PowerPoint slides, and PDF documents into training courses.
Insights
Insights help you capture and measure data over time on your employees' personal and job satisfaction.
This information helps your management identify issues before they become a problem.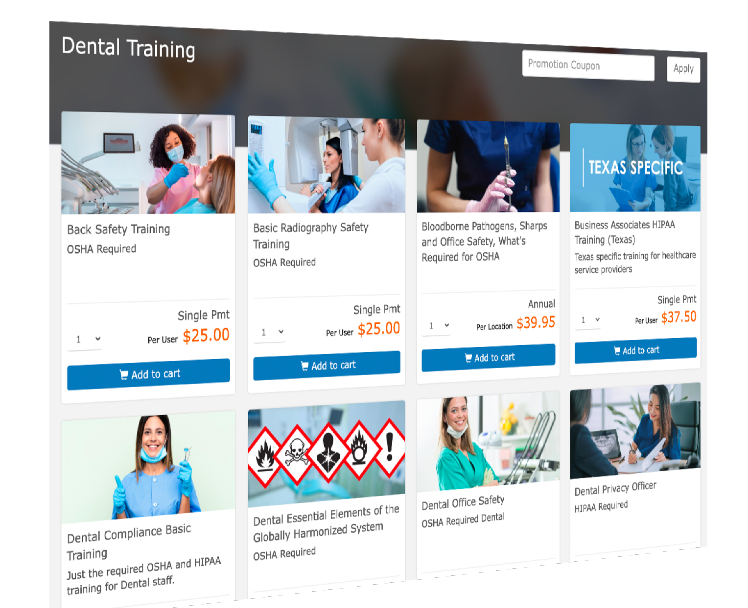 HIPAA and OSHA Dental Training Plans
Our unique dental offerings provide Job Hazard Assessments, OSHA-required Written Programs (OSHA Binder), HIPAA documents and monthly safety and security meetings.
Continually updated and peer reviewed, Smart Training modules help team members safely navigate hazards like Bloodborne Pathogens and Covid-19.
For a complete dental regulatory compliance solution, consider our Essentials package. Smart Training's "Dental Compliance Essentials," in addition to the items listed above, also provides your practice's annual OSHA and HIPAA training, a virtual site inspection and access to a compliance advisor who will aid in navigating the program and its implementation.
Individual Dental Training for Employees
Improve yourself or your employees with online individual training courses. We work with Dental Professionals to create state-of-the-art courses to keep you and your employees updated on HIPAA, OSHA, and medical procedures.
Buy courses separately or try out our subscription package.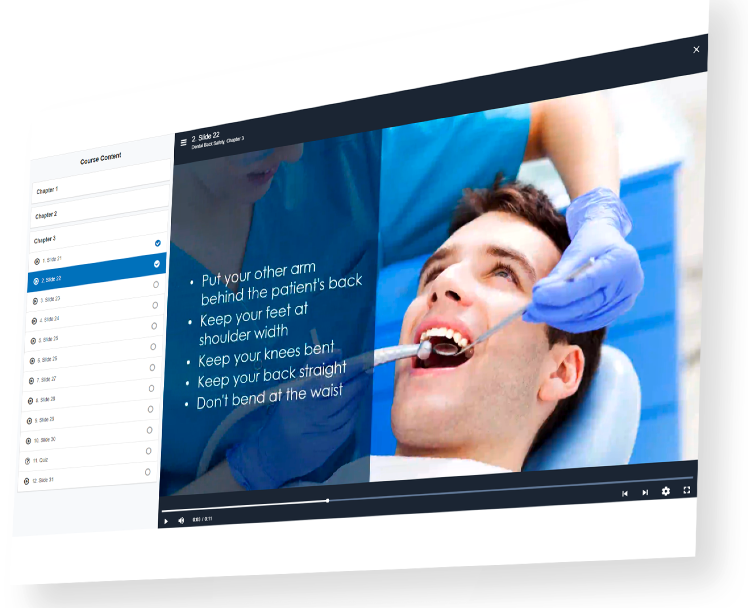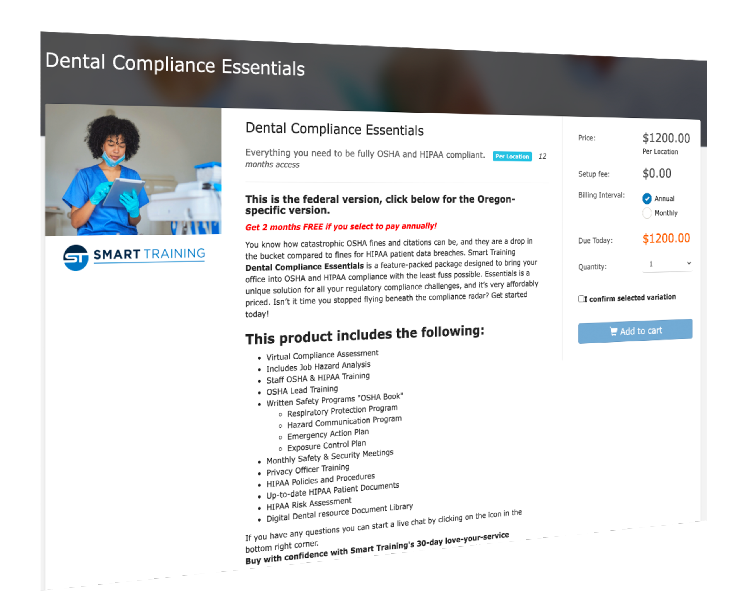 Dental Compliance Training Packages
Our basic plan includes OSHA & HIPAA training required by law. With the subscription plan, multiple users take courses and receive certificates of completion in case of an audit.
What are the HIPAA Security Rule Safeguards?
The HIPAA Privacy Rule protects
Technology and related policies protectiong ePHI. Examples: email encryption, passwords, authentication technology (fingerprints).
Protected Health Information (PHI)
Physical measures protecting ePHI.
Examples: proper disposal of ePHI, documentation of where ePHI is stored, data backup and storage.
The Security Rule protects electronic PHI (ePHI)
Policies and procedures protecting ePHI.
Examples: security management process, assigned security responsibility, HIPAA awareness and training.
Premium Dental Plan
Premium plan is only available in certain areas and comes with a demo before purchase. Includes everything in Essentials and:
Includes all Dental Training available and any new courses and updates.

Written HIPAA & OSHA rules printed, organized, and mailed to your practice.

Compliance Officer who can audit your business for any violations that could create fines.

If you receive any OSHA fines after using our training and compliance officer audit, we will pay any fines incurred.
Request Demo
Dental Compliance
Essentials
---
$140/month or $1400/year per location
Multiple Users
Dental Compliance
Premium
---
$240/month or $2400/year per location
Multiple Users
Click below for a FREE COVID-19 course to learn how to protect against an outbreak in your business.
Learn more