Blog Center
Explore the latest stories and insights!

Top tips for growing your dental practice
Date: 2022/08/02
Dental | 2.09 MIN READ
Managing a dental clinic is definitely not an easy task especially in today's ever-growing healthcare industry. But there are great practices that you can implement to have a well-structured and highly functional dental clinic. Here, we explore proven tips that will help you to improve your dental practice.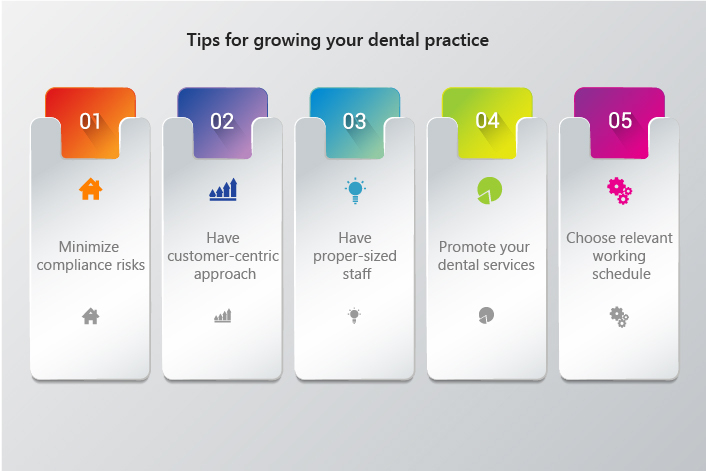 Minimize compliance risks
Working in the dental industry may not be easy because you should always remember about compliance rules and regulations. And this is not a one-time thing, it should be done on an ongoing basis to avoid all kinds of legal costs. But things get a lot easier when you integrate a dental compliance solution that has ready-made OSHA and HIPAA courses. As they are adjusted for recent law changes, you can make sure that your dental clinic is fully compliant.
Have customer-centric approach
Customer centricity plays a crucial role in any business, regardless of type and size. But it is particularly important in the dental field because patients usually have many questions and concerns. For example, they may not understand the difference between different procedures or have some fears about whether a certain method will be safe in their case. In such situations you should answer them patiently and show empathy. You should show emotional support to minimize all kinds of fears and doubts.
Have proper-sized staff
Employees are the basis of everything, but having highly qualified employees is not just enough to run a successful clinic. What matters the most is the right number of staff. It will ensure that you do not have unnecessary costs of being overstaffed and your dental operations do not suffer because of being understaffed. A reasonable decision would be to hire employees on demand during high seasons or in some peak periods such as when you first introduced a new procedure.
Promote your dental services
How can people discover your clinic if you do not spread a word about it? You can't simply hope that satisfied customers will bring more customers. There are numerous promotional channels to make people aware of your clinic. This can be both online such as social media and offline such as taking part in different expos or conferences. Define a budget, determine the channels that work the best for your dental clinic and promote accordingly. It will bring more patients thus more appointments and increased revenue.
Choose relevant working schedule
The ultimate goal of any dental clinic should be to have satisfied patients. And this does not only refer to the procedure itself, but the whole experience. If the patient has to ask for a non-paid leave at the workplace to visit your clinic during your working hours, that's not a good experience. Thus, if your target is adults you should keep in mind that 9:00 am-5:00pm is their working hours as well, so they won't be able to visit you at that time. It would be good to have an evening shift to meet their schedule better.
To sum up
A patient should be sure that he is in good hands where they care about his/her health. Implementing the above-mentioned practices will help to level up your dental practice and win more customers.