Blog Center
Explore the latest stories and insights!

What is the Importance of HIPAA Compliance
Date: 2020/08/21
HIPAA | 6.7 MIN READ
What is HIPAA?
HIPAA is the Health Insurance Portability and Accountability Act of 1996. It is federal law that protects patient health information. Protected Health Information (PHI) can't be disclosed without the patient's consent.
What is the importance of HIPAA compliance for practices?
"The typical practice stands a 94% chance of a data breach in any 18-month period," writes Lee Slaton, the Vice President of Healthcare at Smart Training. Here are consequences of HIPAA noncompliance:
Fines can reach as high as $25,000 for repeat violations
Employees can be fired, fined, and spend up to 10 years in jail
If there's evidence that your practice is negligent or the behavior is a pattern, your doctor's license can be revoked
Is HIPAA law taken seriously?
In the past, the health care industry in Texas ignored HIPAA. To clarify, compliance with the law was reactionary and driven by complaints. Many practice owners underestimated the importance of HIPAA compliance.
However, Texas House Bill 300 was passed in 2001. HB300 is one of the strictest patient privacy laws in the nation. As a result, statewide enforcement increases patient privacy liability.
What is the importance of HIPAA compliance for patients?
Violating HIPAA can cause harm to your patients. Patients are another reason to avoid estimating the importance of HIPAA compliance. Here are some patient privacy facts:
Nearly 100 million Americans have had their PHI breached
The black market for medical records is growing
Patients can't restart their medical records
If a patient's identity is used to get treatment, their medical care is affected
Why do criminals steal PHI?
Criminals steal medical records because the payout can be 10 times as large as ordinary identity theft. According to Forbes, your social security number is worth 10 cents, and your credit card number is worth 25 cents. But your PHI is worth up to $1,000.
Similarly, PHI can be exploited 4 times longer than ordinary identity theft. You can never "cancel" your PHI, the way you can for your credit card. You can change your social security number, too. But for PHI, Forbes writes, "If there is a breach, hackers can potentially blackmail you for a lifetime."
The fact that so many criminals are after PHI also contributes to the importance of HIPAA. Many criminals would rather steal your PHI than your social security number or credit card.
What is PHI?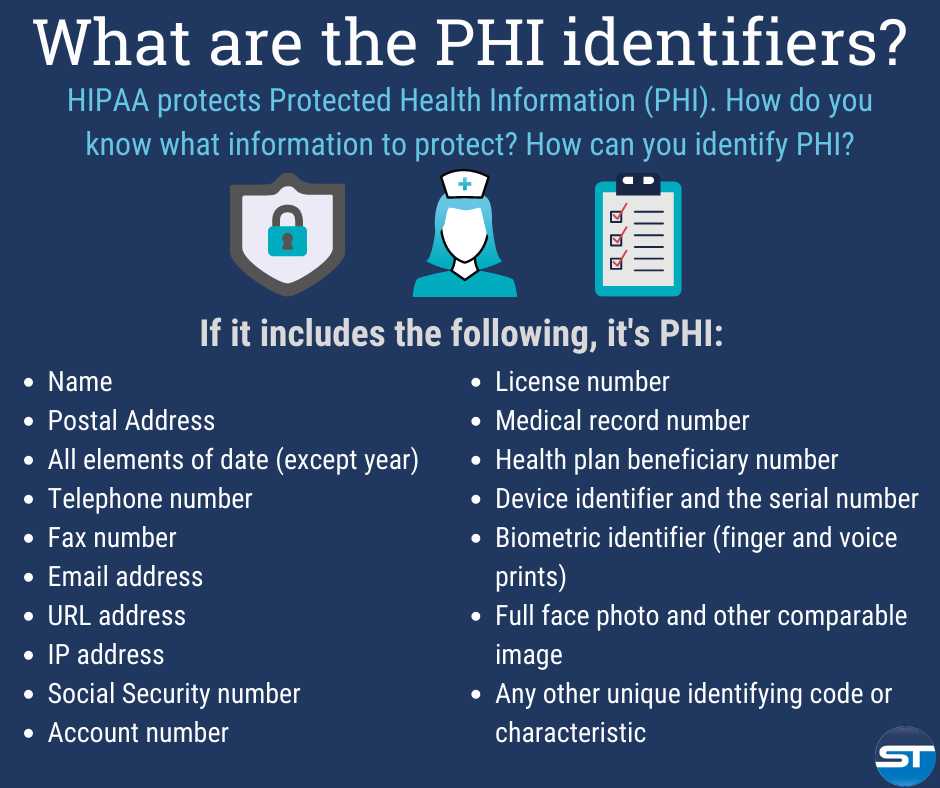 The Protected Health Information (PHI) identifiers.
What counts as a violation?
Some examples of HIPAA violations:
Viewing PHI unless you need to for your job
Not correctly disposing of PHI
Speaking about a patient where others can hear you
Forgetting to log out of your computer, even while away for a moment
Posting about a patient on social media, even with no name used
Not encrypting PHI, or not using an equally effective electronic safeguard
Positioning computers in a way that patients can see the screen
Suffering theft of unencrypted laptops, hard drives, cell phones, or backup systems containing PHI
Business associate breaches
How can you make your practice HIPAA compliant?
You will need to study HIPAA's full text. It is 169 pages. Or you can use Smart Training.
Smart Training offers all required HIPAA training, and business associate training for both Texas and national. Smart Training's in-house HIPAA modules will teach your employees the importance of HIPAA.
Smart Training's compliance modules are HIPAA-certified. Certificates for employees are automatically generated on our software. In the case of an audit, Smart Training maintains all training records and exam scores.
Smart Training stays current with law changes. We focus on compliance, so you can focus on your patients.