Blog Center
Explore the latest stories and insights!

Employee Onboarding Process
Date: 2022/07/19
L&D | 4.7 MIN READ
The process of introducing, familiarizing and training a newly hired employee with the company is called onboarding. Some say it lasts 30, 60 or 90 days, however onboarding is more than that. It lasts until the time the employee becomes a productive and satisfied member of the company. Even after that, the process truly never ends since your goal is to keep your employees committed enough to stay at your company.
In this blog, we will showcase onboarding importance, steps and tools for ensuring an excellent onboarding experience for new employees.
What is onboarding process
It is important to organize an efficient onboarding program as it defines your employees' long-term experience and potential. During this process, employees learn what is expected from them. It is important to create an environment where employees are comfortable with freely interacting with others.
The role of the HR or hiring manager is vital in this process. However, it is not only an HR job, but the management team also plays a significant role in creating a favorable learning environment and fostering motivating culture. It is a collective effort to welcome a new employee and provide with all the necessary tools and resources required for long-term success.
In case of a non-properly onboarded process, you may lose the new employee and return to the hiring cycle again and this time more expensively.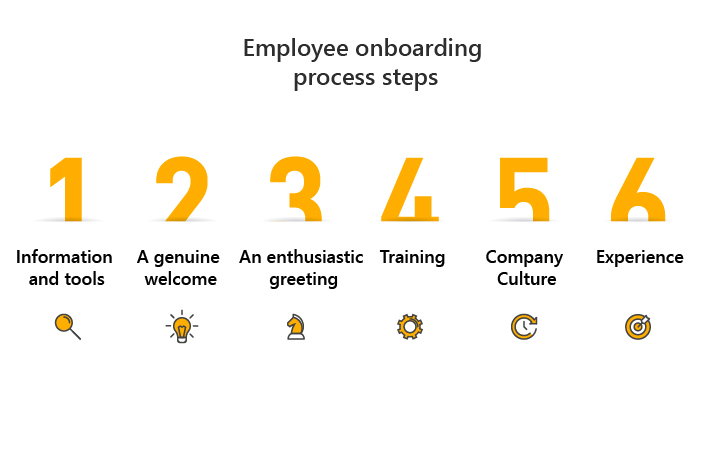 Employee onboarding process steps
Step 1 – Information and tools
On the first day of an employee at your company, it is necessary to provide information about policies and employee benefits.
It would also be preferable to use employee onboarding software and digital signatures so that employees can complete all formalities beforehand and become productive members of the team from the first day. This is especially helpful for onboarding remote employees.
Step 2 – A genuine welcome
Besides sending a nice welcome message from the office with an offer letter, a personal welcome from the boss of the company is very appreciated. If not physically present, it is suggested to ensure a note or video from the CEO or manager after the employee accepts the offer.
A welcome package with gifts is also highly suggested. Employees feel truly valued.
Step 3 – An enthusiastic greeting
A friendly welcome from the team is a valuable move since it motivates the new employee and helps them socialize easily. It also shows what a day in the office looks like. Creating a video with the whole team beforehand is also a good idea.
Step 4 - Training
Training is part of the long-term onboarding process and a crucial aspect of employee retention. Organizations can deliver training materials and expect them to accomplish. Even the most experienced employees need the training period to comprehend company culture and function processes.
Step 5 – Company Culture
The onboarding process also includes presenting the new employee with a wide overview of the company culture. If you are confused on how to effectively deliver information about company culture, try answering these questions:
Is your company output-oriented or outcome-oriented?
How easy is it for your employees to express ideas or issues they face at the workplace?
How open are the managers and colleagues for non-work conversations?
Define and foster your company culture in your company and communicate it to the new employee.
Step 6 - Experience
HRs develop ways to create memorable experiences for employees and facilitate communication between them. But this is not only HR's job. The top management should also ensure that employees use the necessary channels to freely communicate with each other, express ideas or discuss relevant issues. The leadership should proactively anticipate the unexpected and assure to lead to an effective solution.
How to improve the onboarding process
COVID-19 has significantly affected the traditional process and practice of onboarding. Based on a survey, 82% of workers who had been working in an office transitioned to working from home when the pandemic happened, of those, only 50% have even been given a timeline for when they might be able to return to the office.
In this section, you will explore some tips and tools to automate and constantly refine the onboarding process in order to ensure smooth communication and avoid high staff turnover.
1. Ensure that the job matches the job description and vice versa
Sometimes it can happen that employees are promised a certain role, but during the process, it is revealed that they do something completely different from what they were expected. In a survey, more than 25% of employees shared that they were not given enough information about their job before they accepted the offer. On the other hand, 40% shared that their job was exactly what was described in the interview.
Given the issue above, it is needed to bring in candidates who correspond to the actual talent-based job description.
2. Automate the onboarding process
In this fast-growing technological world, it is necessary to consider installing onboarding software to eliminate manual documentation on paper. This way, it will shorten the time for the completion of formalities. The right onboarding software will positively impact employee loyalty and morale.
3. Provide all the tools they need to do their job
A tool worth considering is a Learning Management System (LMS) platform for your company to continuously train your employees. It is an invaluable system that allows high productivity and low employee turnover.
It can also automate and personalize the process of onboarding by creating training specifically by your company with the mission, vision, company culture and job descriptions for your new employee. By saving time and effort for the employer, it will also configure the process effectively for the employee.
You can try out and create an onboarding training in Smart Training's platform FOR FREE and see how it works.