Blog Center
Explore the latest stories and insights!

10 Things to Consider While Choosing a Learning Management System
Date: 2022/06/08
L&D | 2.21 MIN READ
Choosing a learning management system for your company can be tough. You might be confused about what to look at before making the final choice. But it's not as difficult as it seems from the first glance. In this article, we list top 10 points to consider during the decision making stage to help you make the right choice.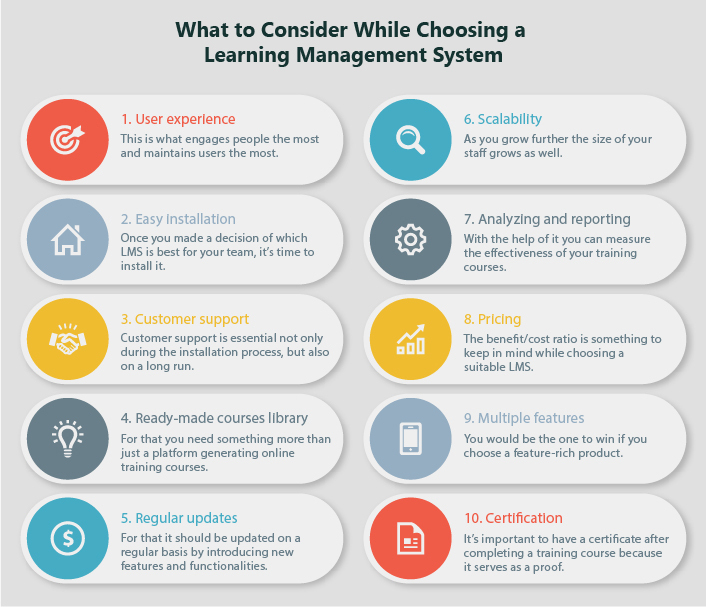 1. User experience
User friendliness is everything! It is what engages people the most and maintains users the most. Navigating through different sections and exploring the product needs to be effortless. You should be able to make some actions intuitively without tutorial, documentation or other guidance.
2. Easy installation
Once you made a decision of which LMS is best for your team, it's time to install it. And you don't want it to become a technical chaos especially if you don't have a team of developers. The installation process should be easy with no extra effort needed.
3. Customer support
Customer support is essential not only during the installation process, but also on a long run. Users can face numerous problems and it is important to address them on time. It is great when they offer support via multiple channels such as live chat, email, phone etc.
4. Ready-made courses library
As you consider purchasing an LMS, it means you want to invest in your employees' L&D. For that you need something more than just a platform generating online training courses. You need a content library of ready-made courses that your team is interested in.
5. Regular updates
Organizational needs can change day by day and it is important to have an LMS that would address them. For that it should be updated on a regular basis by introducing new features and functionalities. Alternatively, after some time you will switch to another provider who will better match your needs.
6. Scalability
When you select an LMS you want to make sure that it will support all employees of your company. And as you grow further the size of your staff grows as well. So your selected software should be able to handle an increasing number of users.
7. Analyzing and reporting
Having data is all that matters after all. It allows you to track performance of your employees and get helpful insights. With the help of it you can measure the effectiveness of your training courses. You can also generate different reports and analyze key metrics.
8. Pricing
The benefit/cost ratio is something to keep in mind while choosing a suitable LMS. Everyone wants to end up with a solution that has reasonable pricing for its offerings. So, you would better look through different pricing packages and start a free trial, if available.
9. Multiple features
You would be the one to win if you choose a feature-rich product. It will make your learning experience better and your job easier. For example, it can include communication tools, event management system, quizzes and surveys etc.
10. Certification
It's important to have a certificate after completing a training course because it serves as a proof. And if there is an expiration date for some of them, it also needs to be indicated clearly. Therefore, you need to make sure that your LMS is eligible to provide certain certification.
Read also: Learning management system: Why your business needs one?
To sum up
To provide your team with the best learning experience you need to get the maximum of your product. Thus, you need to carefully examine all key points before making the final decision.