Blog Center
Explore the latest stories and insights!

Employee training is the key to business growth
Date: 2022/06/29
L&D | 3.2 MIN READ
Training employees is the key to business development and success. It helps employees enhance their skills to become more capable and productive in the workplace. An employee who obtains new abilities and gains crucial lessons from training can achieve excellent outcomes.
How to achieve these outcomes and expand your business? What about starting to invest in employee training?
Why training is important for employees
A training program allows employees to strengthen their skills and broaden knowledge base. It's about making an investment in the long-term prosperity of the entire company.
Untrained workers have a low production value and cannot achieve high-quality results. This means if your worker is not well trained, errors are more likely to occur, because they lack necessary knowledge and skills required for performing a particular task.
An experienced and skillful employee will surely enhance business performance and improve risk-taking approaches. The right training will evolve the team's enhancement areas and better ways of working, making business performance and morale better.
The benefits of training employees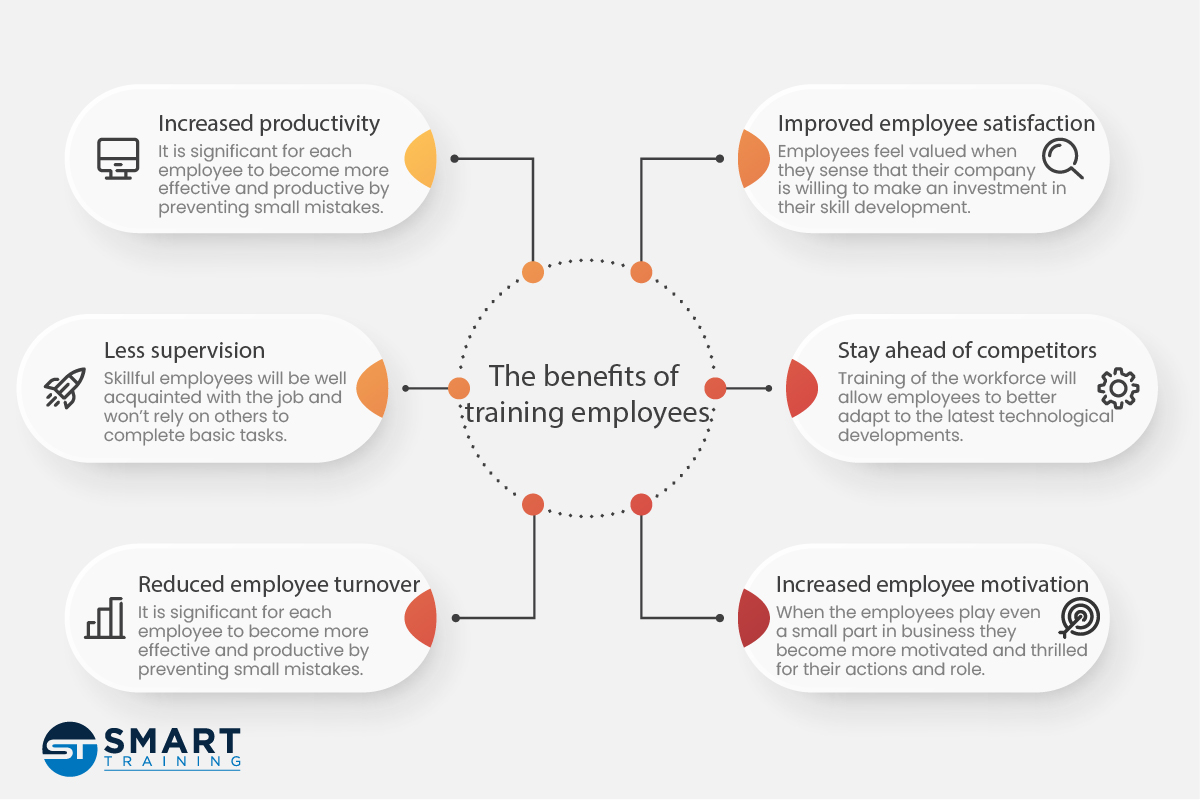 Increased productivity
It is significant for each employee to become more effective and productive by preventing small mistakes. Knowing exactly how to perform the task delegated to you has a direct impact on your productivity as you have the ability to achieve the task in the most optimal way.
When properly trained, employees show both quality and quantity performance. If you are an experienced worker, be sure you are reliable!
Less supervision
Skillful employees will be well acquainted with the job and won't rely on others to complete basic tasks. This allows workers to perform their job without constant help and supervision. This doesn't necessarily mean to eliminate the need for supervision, but it decreases the need for detailed supervision, which saves a lot of time and effort.
Not to mention that due to the development program, the employees will be assigned to a higher-level job and will take the responsibility for the company and the ownership of their actions.
Reduced employee turnover
The return on investment will be immense, because it translates into reduced employee turnover. Continuous employee training and development plays an important role in retaining skilled and experienced employees. Employees reward you with their loyalty, when you help them achieve their full potential.
Besides, it's cheaper and faster to invest in the skill development of your existing employees rather than search for external candidates with the required knowledge.
Improved employee satisfaction
Employees feel valued and appreciated when they sense that their company is willing to make an investment in their skill development. By offering the right training, you are providing them with a pathway to greater professional success. When employees feel empowered to improve their abilities, they naturally feel happier about their job.
The right training retains the right people and develops employee satisfaction. The more satisfied and confident the employee is, the more likely they will contribute to company success.
Stay ahead of competitors
Ongoing training of the workforce will allow employees to better adapt to the latest technological developments in today's ever-changing business environment. It is significant to know how to use new technologies effectively and to their fullest potential.
Training opportunities also foster innovation and creativity. Having up-to-date knowledge about your industry will help you stay ahead of the competition.
Increased employee motivation
When the employees play even a small part in business practices, they become more motivated and thrilled for their actions and role. As a result, people feel more integrated in their workplace when they are successful and inspired!
E-learning also gives employees confidence, courage and proficiency to be a leader in their business career.
Good for your business
Ongoing training results in the success of your business. An employee, who obtains new skills and improves team morale, does his job better!
Employee training also plays an extensive role in teamwork. It improves communication and relationship between teammates which leads to business growth. Ongoing training is the key to business success i.e. every employer needs to take his company to the best results and achieve an elevation in business.
The effectiveness of employee development depends on the right learning management system. Due to the right training, every company's employee will be a key to business success, which will also lead to a knowledgeable and motivated team.