Blog Center
Explore the latest stories and insights!
Boost Employee Happiness with Training
Date: 2022/04/11
Training | 2.5 MIN READ
What is the key to any successful business? A great idea? No doubt, but who puts the idea into action, and who stands behind any successfully accomplished idea? And the answer is – a team consisting of productive, work-oriented, and motivated employees committed to positive and high-level business outcome. It is a well-known fact, that motivation has a direct connection with overall satisfaction with the work they do.
Why happiness of team matters?
Happiness and satisfaction of any team has direct influence on the quality of positive business outcome. Thus, to ensure gradual and successful development of any business it is better to make sure that the team is happy.
It is a proven fact, that employees feel motivated when they see what contribution they have to business success and how their work matters.
In this context, putting the accent on the continual development of each member of the team could be a solution to boost employee engagement and productivity. Training helps to enhance skills and grow employees' knowledge base for the benefit of the company
If you're looking forward to creating your own training program then this article can be of great help.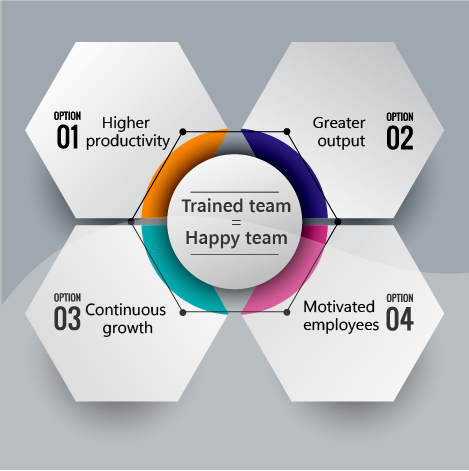 Ongoing training ensures a happy team
Investment in training and professional growth of the team is always a good solution.
Contributing to their continual professional growth is an effective tool to have increased productivity and effective employee performance. A trained team is a skilled, and what is not less important, motivated and encouraged workforce.
Organizations that invest in development of their team gain employees who feel empowered, motivated, and committed to sustainable growth of the company.
In this scenario, below we are going to list some basic advantages of training and development courses organized for employees.
Employees feel the company is investing in them interested to continue further cooperation by having a more skilled team. They feel they are a part of a supportive and caring work environment where they are appreciated and valued.
Professional training help employees gain new skills and enhance their knowledge base making them work more effectively and in the benefit of company interest.
Employees who undergo training improve their professional, time management, communication, and other important skills and as a consequence they grow their self-confidence both as a person and a professional.
Happiness and satisfaction of the team help to retain talents and engage new talents if you are known as a company that offers continual growth to its team through various training and development courses.
Read also 5 Strategies to Boost Employees' Productivity
Training leads to continuous growth
Be confident, that by providing training and learning opportunities to you offer a chance to your employees of being more satisfied at their workplace thus increasing their engagement into sustained growth and prosperity of your company. Researches have shown, that before leaving a company most of the employees seek training opportunities to avoid professional burnout and losing interest in the job they perform on regular basis.
Feeling valued by the company a person works for boosts motivation, makes the employee feel special and appreciated.
Taking into account the above discussed, we can state that a team offered training and growth opportunities is a happy team, and a happy team is definitely an asset to any business. If you're looking into well-developed training courses, then you might like to explore our dental, healthcare, construction, manufacturing and oil & gas compliance courses.