Blog Center
Explore the latest stories and insights!

6 Benefits of HIPAA Online Employee Training
Date: 2022/02/10
Training | 4.3 MIN READ
Providing HIPAA employee training online can make your compliance training program more effective.
HIPAA is the Health Insurance Portability and Accountability Act of 1996. It is federal law that protects patient health information. Covered entities are legally required to abide by HIPAA.
Importance of HIPAA Training
We already know that a lack of HIPAA training is a violation of the law. HIPAA training is not optional. But ineffective HIPAA training can cause data breaches. Becker's Hospital Review states untrained employees are one of the most common causes of data breaches. Similarly, HIPAA Journal writes that employee snooping is the number one cause of HIPAA security breaches.
Employee HIPAA training needs to cover specific topics, and it also needs to be recorded by employers. Pre-made modules created by compliance experts ensure that employees are learning about the right topics, and online learning tracks training. Online training modules are usually HIPAA-certified with quizzes, and they often automatically create certificates of completion.
Online HIPAA employee training can lower the risk of your employees causing breaches and help you stay compliant.
Learning Management Systems and eLearning
Online employee training is often referred to as eLearning. It's exactly what it sounds like: training through online training modules, rather than in-person lectures. Learning management systems (LMS) allow employers to deliver training, automate the training process, track the progress of each user, send notifications, and generate certifications.
That being said, what are the benefits of HIPAA online training? How can an LMS make your life easier?
Here are the top benefits of online learning to consider: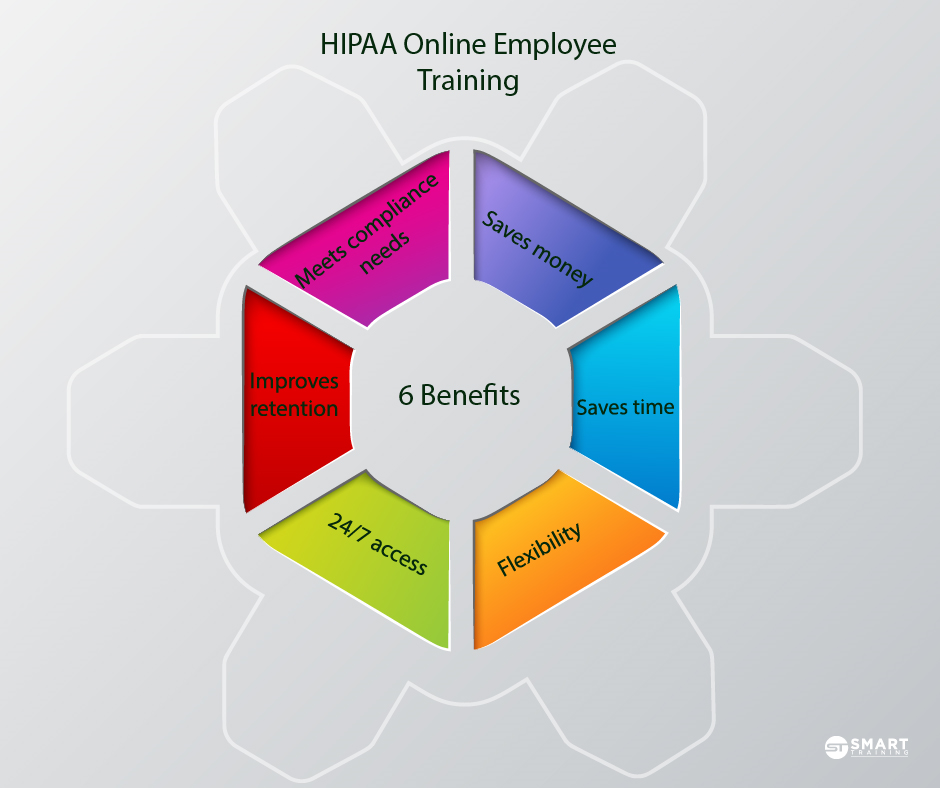 1. HIPAA online training saves money.
HIPAA online employee training is less expensive than in-person training. Online training saves money by lowering travel costs, instructor costs, and material costs. With online training, there is also no venue to pay for and less lost productivity.
HIPAA online training also saves money by providing automated tracking and instantly generated reports. Performance tracking is a tool for quickly determining course effectiveness, as well as discovering and bridging knowledge gaps. This means you don't waste your time or money managing the learning process.
2. HIPAA online training saves time.
According to research conducted by Brandon Hall Group, online learning reduces training time by 40%–60%. It also reduces employee downtime. Not to mention that with online training, there is no travel involved—in contrast, in-person training results in lost time while traveling to and from the training venue.
Online learning also results in saved time for the trainer. In-person training often means the employer repeatedly delivers the same training. Delivering the same HIPAA training over and over wastes a lot of time.
With an LMS, trainers can develop a training module one time and assign it to employees as needed. Employers can assign training modules to employees based on job title, department, or location. Employers can create HIPAA training modules to tailor to certain job roles, so employees are more motivated to pay attention.
3. HIPAA training online is flexible.
HIPAA online training courses can be taken anytime and from any location. Accessing the courses only requires an internet connection and a device, such as a laptop, tablet, or smartphone.
Since learners complete the training modules by themselves, they can go at their own learning pace. Fast learners are not slowed down in the classroom, and slower learners can rewind as many times as they need. 58% of employees favor self-paced learning.
Employees could complete the training during their downtime at work or at lunch, and they can stop training in the middle of the module. Smart Training's LMS saves the place that the employee left off at and all previous exam responses. The employee can resume the training at any time.
4. 24/7 access to online training modules.
An LMS is available 24/7 to both learners and educators. This means that whenever an employee is confused at work, they can access the training module or materials on demand.
With 24/7 access, employees don't have to complete the training module all in one sitting. A meta-analysis by Abreena Tompkins found that most people could not maintain intense focus for more than 15 to 20 minutes without requiring a break. With eLearning, students can take breaks as needed.
Continual access also means that employers can train employees as they join the team, rather than waiting for annual compliance training. Best practice is to train employees in HIPAA before they perform job duties. Plus, educators can create or update training modules as needed.
5. eLearning improves employee knowledge retention.
Your employees have different learning styles. They absorb information differently. The most common learning styles are visual, auditory, verbal, and kinesthetic. Learning takes place more rapidly when more senses are engaged, and it helps employees with different learning styles retain more information.
Typically, in-person training is ineffective because it engages only one or two of the five senses. But Smart Training's LMS was created to provide a multi-sensory impact. Your team members engage three senses: visual, auditory, and kinesthetic sense of touch.
Visually, your employees assess written and photographed material presented on the screen. Auditory learning is activated by listening to the narrator discuss the topic. Finally, kinesthetic sense of touch is used to respond to end-of-segment quizzes.
6. Online training makes it easier to meet compliance requirements.
An LMS makes it easier for organizations to meet compliance regulations. Especially Smart Training's LMS, which has pre-made HIPAA compliance training modules. Our Compliance Advisers constantly monitor regulatory law changes, so you don't have to.
HIPAA requires that you record employee training. You must record specific aspects of training, such as the employee's name, signature of the trainer, date of training, and proof of competency. Smart Training's LMS does this automatically for you, so you can be prepared in the case of an audit. Smart Training also creates certifications that you can access with the click of a button.
Are you using an LMS?
Some people prefer face-to-face training. But especially during the COVID-19 pandemic, employers are prioritizing eLearning. HIPAA online training is a huge cost saver for organizations, and it is a great way to practice social distancing.
Smart Training's LMS and HIPAA training modules make your organization more efficient and compliant.