Blog Center
Explore the latest stories and insights!

Learning management system: Why your business needs one?
Date: 2022/04/28
Training | 2.5 MIN READ
Learn, grow, achieve- this may sound simple, but it is the key to each company's success. Learning is a never-ending process, and it is important to implement this process correctly to achieve higher results. This is where the learning management system comes to help. It gives a central place for learning development. You may say, "Yeah, that's great, but why exactly does my business need it?" We got you. We give a detailed answer to your question below, so keep on reading.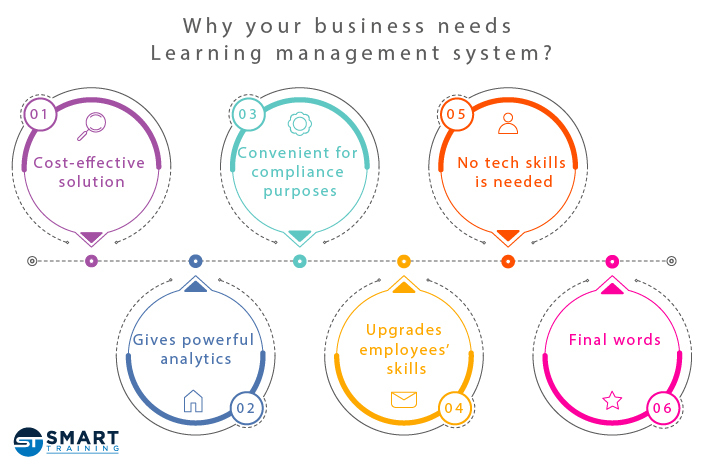 Cost-effective solution
A learning management system eliminates the costs of traditional training. There is no need to hire instructors, print materials, create a class schedule that fits everyone and so on. Employees can complete the courses at their own pace without trying to keep up with their teammates.They can go back and forth within the course as much as they want and can review the materials whenever they feel the need.
Convenient for compliance purposes
Compliance, such as with OSHA and HIPAA, is not something that companies are free to choose. Instead, laws regulate the rules and policies that companies are required to follow.Employees in the manufacturing, construction, healthcare and other fields must have certain qualifications to be eligible to work and must follow specific rules while on the job. A learning management system provides certificates upon completion of training courses, so you have verification that meets legal requirements.
No tech skills are needed
An LMS allows you to generate training courses by simply uploading your content in whatever format it is such as a PowerPoint Presentation, PDF Document etc. Therefore, you do not need a developer, designer or other tech specialist to build a course for your company. An LMS makes things easier by doing the job for you. It allows you to save lots of time and money that would be otherwise spent on course creation.
Gives powerful analytics
An LMS generates tons of data that give you valuable performance insights. It provides you with statistics such as enrollment rate, completion rate, average score and so on. You can analyze this data and make conclusions about how your employees perform and how well your training works. You can generate different types of reports that give detailed information about employees' progress and the overall effectiveness of the training program. For example, if the majority of employees have low scores on the same section of a course, then most probably it does not address learners' needs so well and needs improvement.
Upgrades employees' skills
In today's dynamic environment, new trends, practices and solutions appear every day, and your business should be able to adapt to them. The most efficient and innovative way for it is online training that improves your employees' skills and abilities. It provides them with relevant and high-quality content on demand. It gives them a great knowledge base that they can apply in their job to achieve better results.
Read also Benefits of using LMS for a Personal Trainer: Features and Advantages
Final words
To sum up, we want to say that an LMS helps to keep up the ongoing cycle of L&D. It allows companies to create a corporate learning environment where everyone benefits. With an LMS you can deliver training consistently and ensure top company performance.