Blog Center
Explore the latest stories and insights!

5 tips to make your online training more effective
Date: 2022/06/14
Training | 2.4 MIN READ
Technological advancements made our life easier in many ways and one of them is the contribution to learning processes. E-learning became accessible to the majority of us and all we have to do is to get the most out of it. In this article, we included the best tips for creating effective online training courses.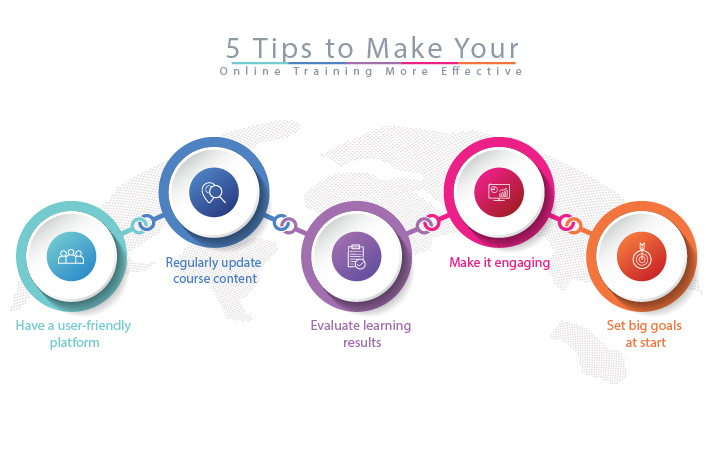 Have a user-friendly platform
You need a platform like a learning management system to generate online courses. It should be user-friendly, so that your learners do not spend much time on figuring out how to use the platform. They should be able to easily navigate between it without extra support. This includes accessing videos, finding any content material, submitting assignments and so on. Make sure that it is designed for people with various backgrounds, so that people with no technical skills will have no difficulty in using it.
Regularly update course content
Learners want to get information that is up-to-date to stay on top of the industry. Sometimes it can be hard to find the most recent updates because industries are changing every minute. But if you manage to catch up with all that and include that material in your courses, you will stay competitive. This is especially important in case of compliance training that includes industries such as healthcare, manufacturing, construction etc. You should make sure that your courses include the latest regulations and requirements.
Evaluate learning results
How can you be sure that your training performs as supposed? The answer is simple: you should have data behind it that speaks for itself. The analytics will help you to keep track of the whole learning process. You can understand the effectiveness of the training courses by analyzing different types of reports. Later you can use that information to make your training better such as changing the number of modules, adding new topics, cutting down the duration of videos etc.
Make it engaging
Learning on your own can sometimes feel boring and make people demotivated. That's why it is important to make the process interactive. Learners should feel that they are part of a community and they are contributing to something great. It would be a great idea to have peer-to-peer evaluations where learners can give feedback about each other's assignments. Another thing is to have discussion forums where learners can talk about different topics, share ideas and exchange knowledge.
Set big goals at the start
People want to know the purpose of doing something, especially if it takes a lot of time, energy from them. Thus, it is important to clearly communicate the goal of your training courses to your learners. They should have the big picture and understand the ultimate result of it. For example you can state that after the completion of the course you will be fluent in these specific skills or this course will allow you to solve problems of medium difficulty.
Final thoughts
To give your learners the best experience, you should carefully think about all the points while creating your training courses. Following all the above mentioned tips will guide you through the process and will make your work more organized.