Blog Center
Explore the latest stories and insights!

Tips to create online training courses for distracted employees
Date: 2022/07/12
Training | 3.8 MIN READ
Your employees face many problems every day because of their exhaustion and distraction which makes business less productive. At the same time having some personal duties and tasks can cause some difficulties for employees to implement their professional abilities.
Let's see some tips and tricks to create online training courses to avoid getting bored at work.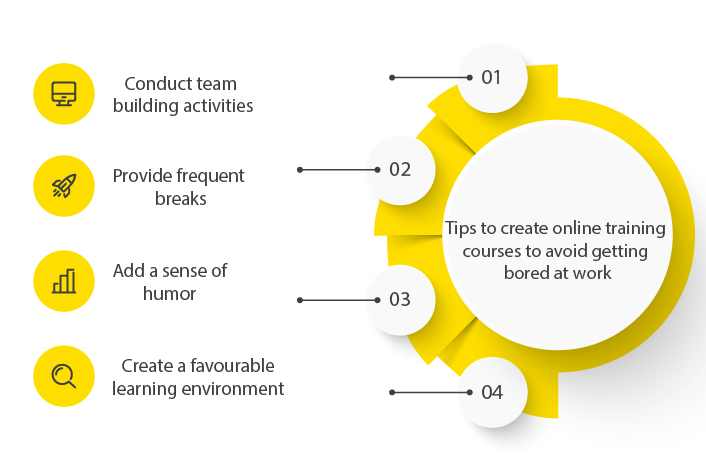 Conduct team building activities
Employees are more engaged and motivated when they are integrated into teamwork activities. They have the opportunity to take part in online discussions, asking questions each other as well as interact with their peers and benefit from others by gaining new skills or improving the existing ones. Dividing employees into groups, you build a social integration and great learning atmosphere for them.
It is also a nice opportunity to resolve conflicts if any. Team building activities may turn disagreements into constructive work. Conflicts aren't always a bad thing, right? The key to resolving such conflicts is the positive company culture that stimulates openness to speak, listen and accept diverse opinions and perspectives.
Provide frequent breaks
Companies' efficiency depends on its employees working smart, not hard.
When employees experience too much stress, it's less likely to work productive and efficient. It means employees should take breaks during their working time. The proven fact is that employees who take regular breaks are more productive and eager to expand their role. As an employer, you need to give frequent breaks to your workers so that they can take their time to rest. It helps them to assimilate and retain the provided information as needed.
The same is during the training courses. Frequent breaks help employees rest and generate ideas from the provided information.
Additionally, constant focus on everyday tasks makes it easy to lose sight of the bigger and more strategic picture. So, taking small breaks makes you prioritize your work and reassess your goals to make sure you are giving your attention to the right tasks at a right time.
Add a sense of humor
A survey showed that 91% of managers believe that humor is important for career development and 84% revealed that employees who have a good sense of humor are often good workers. People enjoy working with people who have a good sense of humor. Needless to say, that humor builds trust between co-workers.
For online courses, humor is useful, especially when its integration becomes more meaningful for learners. Use training cartoons to encourage skill development. Integrating cartoons is one of the most effective ways to add humor to your training! Keep employees' attention on place and make them more open to the online training courses. Create a great training environment making your online training courses available to your employees. It's important to mention that funny and humanized elements ensure employees that there are people behind the training courses, not robots.
You have to know where to use humor! It is necessary to know if your jokes don't relate to the subject, your employees won't get the provided knowledge. In such case, they will remember the funny and interactive scenarios but not what they have to learn. Remember that the purpose of your e-Learning course is to educate, not entertain, thus the aim of humor integration should be only used for increasing the learning process efficiency.
Create a favorable learning environment
The catchier your online training is, the better for your employees to remember what they are learning. Focus on creating some activities that will certainly entertain employees starting from making content more interesting. Think for a while - how difficult it will be to take a training course by just reading the text and pointing out important elements? The pictures and audios will surely make your content understandable to employees especially when they have to take a long course. Attract your audience's interest by adding games, audio files and other essential elements into your online training course. It will make your online training course more interactive and convenient. Be sure your employees will be very grateful for making training more captivating!