Blog Center
Explore the latest stories and insights!
How to create a learning culture in the organization
Date: 2022/05/18
L&D | 2.15 MIN READ
Creating a learning culture sounds amazing, but if you go deeper into it, it brings so many questions. You may wonder what actually defines a learning culture, why your company needs that, what are the steps for developing it etc. This line could go on and on, we got you and we have your back! In this article, we explore how to build a learning culture in a workplace by answering your possible questions.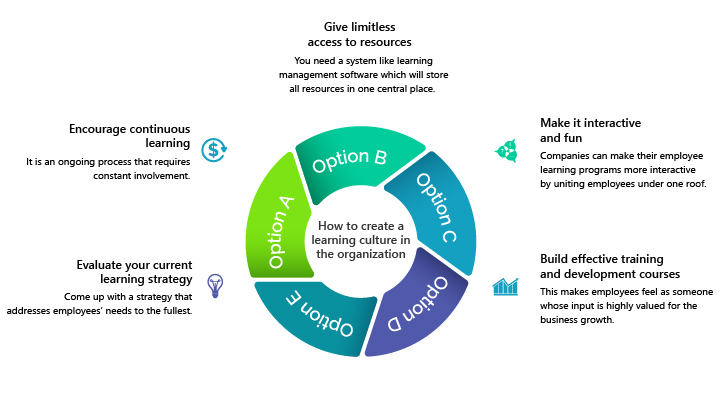 Evaluate your current learning strategy
Before you build a new and well-established development strategy, it is important to understand at what point you are now. It will be best if you closely examine how your team members are currently learning, what their preferred techniques and methods are. Also you can find out what they would like to have differently such as changing or implementing new practices. After getting answers to this type of questions you would come up with a strategy that addresses employees' needs to the fullest.
Encourage continuous learning
Adopting a learning culture is not a one-time thing, instead it is an ongoing process that requires constant involvement. This can include knowledge sharing practices where employees can educate their colleagues about topics that they are mastered at. But the format can vary from company to company. For one, it can be a Q&A session, for another, a discussion forum and so on. What's important is that any of these promote exchange of information and active learning.
Build effective training and development courses
When a company provides employees with high-quality learning and development courses, they see that the top management cares about them. This makes them feel as someone whose input is highly valued for the business growth. And they become motivated to pass more courses to be better qualified. As this continues for a certain period of time it develops a culture of learning where everyone benefits. If you want to dive deeper into the steps of creating a L&D strategy you would definitely find this article useful.
Give limitless access to resources
One of the important aspects in the learning process is maintaining knowledge. You would probably confirm that it's a challenging thing to do. But it can become a lot easier if you are given access to educational resources. For that you need a system like learning management software which will store all resources in one central place. In that case you can review any material at your preferred time and location. All you need to do is to search the video, document or anything you need under relevant course modules.
Make it interactive and fun
Let's be honest, learning on your own can be a bit boring. That's because humans are social creatures and communication is a basic need for us. For that, companies can make their employee learning programs more interactive by uniting employees under one roof. This can include chatting about the same topic, discussing some points or anything similar to this. It will get people together and will make them feel as part of a learning community.
Creating a learning culture will not happen overnight, it should be developed day by day in smaller steps. The key here is to do it on a constant basis to achieve long-term organizational impact.