Blog Center
Explore the latest stories and insights!

How to create emergency evacuation map
Date: 2022/06/01
OSHA | 2.5 MIN READ
Emergency evacuation map is your guide to safety and security. It helps people to safely exit the building and stay away from hazards or threats. That's why it is important to develop a map that meets all safety regulations. In this article, you will find some key points and useful information about developing an evacuation map.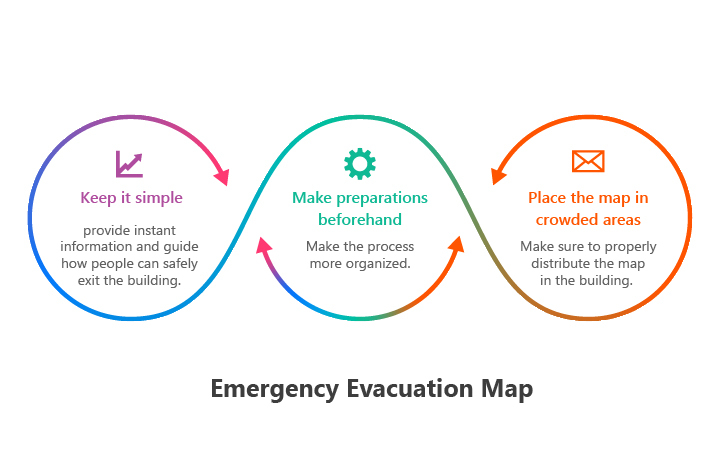 Keep it simple
The goal of the evacuation map is to provide instant information and guide people how to safely exit the building. For this exact reason it should be simple and clear. Everybody should be able to grab the information without spending much time on it.For the best results you would better use white background, black and white lines and minimal elements.You would rather avoid using many colors and symbols to not overwhelm the map. To make it easily understandable you can highlight important elements such as fire extinguisher locations, exit routes and so on.
Make preparations beforehand
Before creating an emergency evacuation map, it would be better to make some preparations. It would make the process more organized and your job easier. It includes the following:
Investigate the area

The evacuation plan depends on the area. So, you should closely examine the type of building and the surrounding area before developing the map.

Identify the exit routes

Highlight all the exit routes at first and keep them in front of you while creating an evacuation map. It will help to build the map based on your identified locations.

Mark safe areas

The evacuation plan depends on the area. So, you should closely examine the type of building and the surrounding area before developing the map.

Use universally recognizable symbols

Emergency symbols vary from hundreds to thousands and they come in different shapes and forms. However, there are some symbols that are universally accepted and people identify them at once. Those are first aid symbol, fire extinguisher symbol, escape ladder and so on.
What elements to include in an emergency evacuation map?
The primary layout of the property (includes doors and walls)
The starting point ("You are here" dot)
The compass
Exit routes
Marshall area
Fire extinguisher locations
First aid kit boxes and rooms
Other significant elements
Place the map in crowded areas
The placement of your evacuation map is very important because you want it to be viewed by as many people as possible. For that, it should be in a visible place such as on a bare wall that many people pass by. If you have more than one type of evacuation map, make sure to properly distribute them in the building.
How to come up with the map?
If you have the appropriate knowledge and skills to develop it yourself you can choose from a number of map makers/templates and do it on your own. The alternative scenario is getting it delivered by industry experts and be aligned with legal requirements, then you can order it as a service.
DISCLAIMER:
This article gives a basic guideline and not a universal standard on how to create an evacuation map. The legal requirements and regulations vary for each institution. Contact an industry professional for each specific map sample and building type.