Blog Center
Explore the latest stories and insights!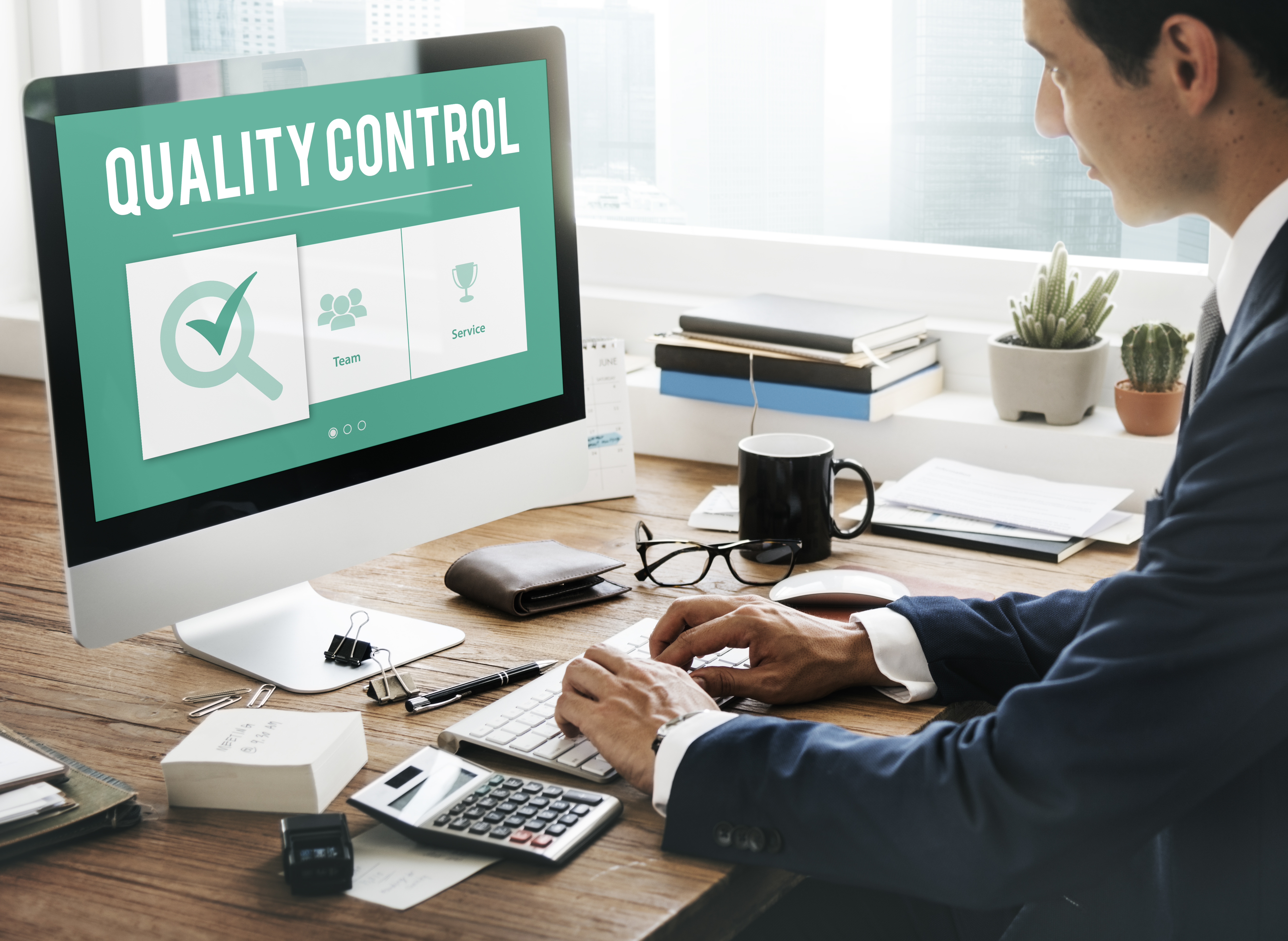 OSHA Compliance Guide: Standards, coverage, rights and responsibilities
Date: 2022/08/30
OSHA | 6.13 MIN READ
In this article you will find:
➔ What are OSHA standards
➔ Who does OSHA cover?
➔ Employer responsibilities in the scope of OSHA standards
➔ Employee rights and responsibilities in the scope of OSHA standards
➔ Help with OSHA
What are OSHA standards?
The OSHA standards are sets of regulations and policies that US-based workplaces need to follow to provide a safe and secure workplace environment. The main aim of Occupational Safety and Health Administration (OSHA) is to protect employees from being harmed at the workplace. They also monitor organizations to provide appropriate training to employees that will make them well-equipped for doing their jobs.
Who does OSHA cover?
As we look at the definition of OSHA standards we clearly understand what it is about, but then come other questions such as "Who is covered under OSHA Act?" "Does it include the private or public sector?" and so on. To make things easier, let's look at each sector individually.
Private sector workers
Most private sector workers (both employees and employers) are covered under OSHA. This applies to all 50 states.
State and local government workers
State and local government employees do not fall under Federal OSHA coverage, but if they work in states that hold an OSHA-approved plan, then they will have a right for OSHA coverage. Below is the list of states and territories that have OSHA-approved plan:
California
Oregon
Vermont
Wyoming
Minnesota
Washington
Alaska
Utah
Puerto Rico
Michigan  
Virginia  
New Mexico
Nevada
South Carolina    
Arizona
Kentucky 
Tennessee
Hawaii
Iowa  
Indiana    
Maryland
North Carolina
Besides the above-mentioned states and territories there are six other ones (five states and one territory) that have OSHA-approved programs and cover employees of the public sector only. They are the following:
| | | |
| --- | --- | --- |
| Maine  | New York | Connecticut |
| Illinois |  Virgin Islands | New Jersey |
It is important to state that private sector employees of these mentioned states and one district fall under Federal OSHA's jurisdiction.
Federal government workers
Despite the fact that OSHA does not cover workers who fall under the protection of other federal agencies, it monitors them and addresses employees' complaints.
Not covered under the OSHA Act
As we see there are sectors that are fully or partially covered by OSHA, but now let's see who is completely out of the scope of OSHA coverage.
Self employed
Family members (including immediate family, not relatives) agricultural employers
Workers who are monitored by another federal agency such as the Department of Energy or the Coast Guard
Employee rights in state-plan states
States that have their own occupational safety and health plans should make sure that their provisions are equally effective as those of Federal OSHA. If an individual or group of individuals have complaints about the implemented program, they can submit a complaint to the corresponding regional principal of Federal OSHA. Of course, the name of the person submitting a complaint will remain confidential. The OSHA regional principal will handle these kinds of complaints and if it is approved to be valid, then a corrective action will take place appropriately.
Employer responsibilities in the scope of OSHA standards
Up until this point we were talking about the governmental regulations and requirements that one must follow to be aligned with law. And now when we have this much background, let's move forward to discussing the rights and responsibilities of both employees and employers. We know that there might be some confusion about these two because at first glance it seems that OSHA compliance has to do only with employers. While in reality employees should also follow certain responsibilities in their turn. And the truth is that only in the case of combined efforts we can reach workplace safety. To make things clear, let's have a look at each of them in detail.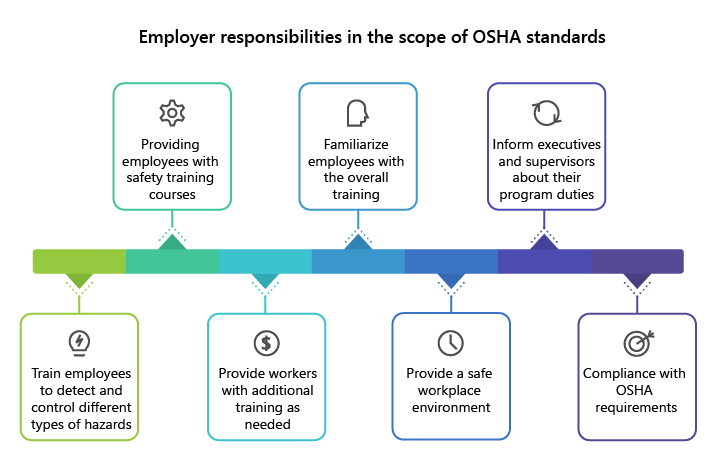 In general, employers' responsibilities can be grouped into 7 main duties which are the following:
1. Providing employees with safety training courses
One of the core responsibilities of employers is to train employees for appropriate roles, so that they will have the necessary skills and abilities to complete their tasks safely. During the training employees should be able to identify several types of workplace hazards and understand the means of controlling them. Being educated enough will help them to stay away from getting different types of injuries.
2. Familiarize employees with the overall training 
Apart from the safety training itself, it is important to introduce employees to the training. This includes familiarizing them with the program's structure, content, duration and giving general introduction of what it will contribute to.
3. Inform executives and supervisors about their program duties
If the top management is not well equipped you cannot expect higher performance from the assembly line workers. That's why it is super important to have managers who are prepared enough and clearly know their roles in the safety training programs.
4. Train employees to detect and control different types of hazards
To ensure a safe workplace environment, employees should be able to detect hazards, eliminate them or minimize their risks.
5. Provide workers with additional training as needed
As the training evolves, it can get harder for employees to distinguish specific roles and additional training might be needed to fill in this gap. This also refers to the case of updated regulations when there is a need for additional training to familiarize employees with a new set of practices.
6. Provide a safe workplace environment
As we speak about employers' responsibilities the core one is to have zero workplace hazards that are preventable in practice. There must be an OSHA poster that would include employees' rights and responsibilities. It ,use include color codes, different labels and signs to easily detect warnings and threats.
7. Compliance with OSHA requirements
Here comes the most important part which is continuously monitoring the workplace and taking actions according to OSHA standards. Employers are responsible for documenting and reporting any work-related accident, death or any trouble causing hospitalizations. Here the key thing is the timing, all accidents should be reported within 8 hours. It should be specifically noted that in case of 10 or more employees, an updated record of injuries should follow. But this does not refer to small injuries that only require first aid. Employees have the right to access the summary of their medical documents and records which includes work-related injuries (OSHA Form 300). In case of partial compliance or non-compliance, employers must post OSHA citations until a corrective action takes place near the area of violation. It should be specifically stated that employers have no right to show discrimination against workers who have submitted complaints against employers. The Whistleblower Protection Act ensures that employees are treated fairly in this scope of actions.
Employee rights and responsibilities in the scope of OSHA standards
As we mentioned earlier, if there is not the joint efforts of employees and employers, then there could not be a safely operating workplace environment. Each of them has to have their contribution to it. Now let's see what rights are responsibilities employees have under OSHA standards and how do they contribute to it as a whole.
Employee rights
Employees have the right to be aware of any violations in the workplace. They are eligible for requesting OSHA inspection completely anonymously to find out workplace hazards and violations of OSHA requirements. They are also eligible to contact OSHA for further information such as the results of the inspection and other details, for example, safety records of reported accidents. If an employer negatively treats the employee for initiating any OSHA-protected activities, then the employee can submit a complaint.
Besides these, employees have the right to go deeper into investigating the substances used in the workplace. They can request to explore and disclose information if they have some questions or concerns regarding certain substances. In case of dealing with chemicals or other toxic materials they can access chemical records to find out the measures of those substances. In some specific circumstances when employees are exposed to high risk or threat, they have the right to not go to work.
Employee responsibilities
When it comes to responsibilities, of course, the larger part of them fall on the employer, but this does not mean that employees do not have any. Under the OSHA initiative they are expected to:
Carefully examine all provided information and follow all safety guidelines, including OSHA posters in the workplace
Closely follow all the practices, learned during safety training, to perform the job
Adjust working processes accordingly when informed about OSHA updates
Do not arrive workplace if under the influence of alcohol or drugs
In case of identifying hazards, report to the employer to come up with solution
Be in touch with OSHA compliance representatives during workplace investigations
Responsibly execute the rights provided by OSHA
Need OSHA help?
If you need further help with OSHA after reading this guideline, then Smart Training is here to help you. We offer everything under one roof- online OSHA training, compliance checklists, OSHA written programs and monthly safety and security meetings. You can explore our  Platinum+ and Essentials packages to closely examine our offerings. And if you want to learn more about us in a personalized manner, then you can schedule a demo and our compliance adviser will address all your questions.