Blog Center
Explore the latest stories and insights!

What you need to know about compliance?
Date: 2022/08/24
OSHA | 5.48 MIN READ
There is a lot to talk about the compliance industry ranging from its role and significance to specific cases of operation.
This article will cover the following:
➔ Regulatory compliance VS. corporate compliance
➔ Main compliance roles and responsibilities
➔ Top fields in the compliance industry
➔ Important statistics about compliance
➔ How to deal with compliance?
What is compliance?
Compliance is the state of being aligned with established regulations, rules and other standards as defined. Organizations of different types and sizes should follow compliance rules to be able to effectively operate. Alternatively they would be subject to legal fines and other problems such as company reputation. But the compliance rules are not the same in all countries and for all industries. To have a well-functioning business in the compliance field, one has to have a full understanding of government legislation specific to its country and industry.
Regulatory compliance VS. corporate compliance
Now when we get familiar with the compliance term, it is time to see what the types of compliance are. But things do not get complicated, no worries. You may think that the compliance field is a bit confusing and difficult because of its terms and processes. And you may also find some terminologies that are quite similar and think that it is hard to distinguish between them. But if you find the exact definitions of them with clearly presented details, then it becomes easier. Here are two commonly used terms:
Regulatory compliance:

Putting simply, regulatory compliance is all about external regulations. It is when an organization follows policies, guidelines and practices that are prescribed by law.

Corporate compliance:

Again in simple terms, corporate compliance is about the internal structure. It refers to the course of actions in which an organization ensures they are following their internal compliance framework. And it's important to mention that those internal policies should be aligned with law.
Regulatory compliance is required by law and it is not something that you can choose to have or not. While corporate compliance varies from industry to industry and can even be implemented differently for specific types of businesses.
Main compliance roles and responsibilities
As we successfully learned this part, we can move forward and get deeper into the overall picture of the compliance field. It is a big industry and it is interesting to explore how it functions and what is the driving force of it. Of course, it's about people who make it happen and who drive it further. And as the number of businesses in the compliance field grows, so does the number of compliance specialists. Thus, it is important to get familiar with each of those professions and distinguish them accurately. Below are the most popular roles with corresponding responsibilities.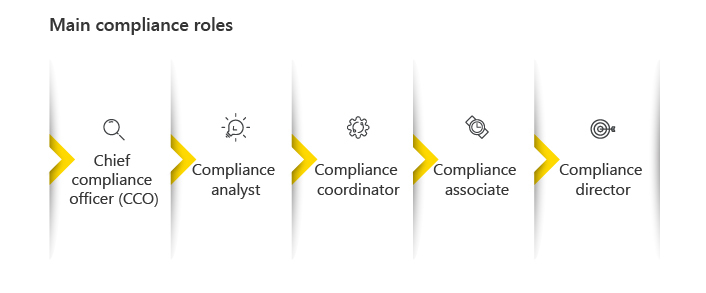 Chief compliance officer (CCO): Being in the top management CCO is the one who is responsible for establishing, implementing and managing the company's compliance program. He/she should oversee compliance processes and ensure that they are legally aligned.
Compliance analyst: The main scope of responsibilities is ensuring that the company is prepared for external audits and no issues will take place regarding regulations.
Compliance coordinator: Working with different departments to collect and review data regarding all systems and processes. He/she makes sure that data is complete, accurate and business risks are well-identified and assessed.
Compliance associate: Assisting senior management with reviewing the company's internal controls. Duties also include educating employees about regulations to make sure that staff is well-equipped in legal terms.
Compliance director: Establishing measurements and compliance standards that the company should effectively meet. He/she is responsible for minimizing organizational level risks by implementing new procedures.
Top fields in the compliance industry
As we speak about specialists it is not enough to just learn about their responsibilities. To understand the full cycle of their operations we should get familiar with the industry that they work in. And as the compliance industry is pretty large in its scope, it includes a number of fields. Here we present the top ones and describe what each of them has to do with compliance.
Healthcare

Healthcare industry includes hospitals, medical centers, institutions etc. All of them should meet healthcare standards and regulations that are prescribed by law. As here we speak about the safety and security of patients, the corresponding policies should be followed more accurately than ever. This includes the whole scope of medical operations such as clinical settings, equipment and environmental safety and so on. All of these need to be measured and monitored for quality and expected performance.

Manufacturing

Manufacturing includes a wide scope of operations ranging from the production of household items to heavy machines. On this large scale, it is essential to be compliant with governmental regulations to ensure safe workflow. The quality standards and regulations vary from country to country but the most common ones that are present in the USA are the following: Occupational Safety and Health Administration (OSHA), Environmental Protection Agency (EPA), Food and Drug Administration (FDA).

Construction

As the construction field includes dealing with heavy equipment and different materials that can be hazardous. This implies the high possibility of injuries and other threats that's why having a safe worksite is the first significant thing. For that, employees need to be educated about the proper ways of dealing with construction activities. The safety measures such as site traffic and proper lighting should be closely followed to have a safe workplace environment.

Oil and gas

Oil and gas industry is prone to high risks such as explosions, oil spills and so on. In this kind of worksite where the probability of environmental damage is pretty high, following safety measures should be a priority. Staying compliant will help to ensure that employees have appropriate knowledge and skills of dealing with hazards and threats. For example, this includes dealing with explosive substances or labeling and storing gas in appropriate containers.

Non-governmental organizations (NGOs)

NGOs should also stay compliant with the legal rules and regulations specific to them. NGOs are held accountable both for the internal and external scope of operations. This includes dealing with the state, public, partners, third parties etc. The organization should also publish financial information that is publicly accessible. All of these should meet certain policies and procedures that are defined by law.
Important statistics about compliance
As we came this far, we gained general knowledge about the term compliance, the types of it learned about the main compliance roles and the trending industries that they work in. After all this, you most probably got an understanding of how important the compliance field is and how the right implementation of it can keep you away from legal issues. But as we love to prove everything with facts and stats, below we present top compliance statistics that you would like to have a look at. Seeing these numbers will give you a measurable perception of what the industry looks like and how staying compliant can contribute to any company's growth.
86% of companies stated that cutting-edge digital solutions contributed to the detection of financial fraud. (Refinitiv's Global Risk and Compliance Report 2021)
A survey including risk and compliance experts showed that after the pandemic 70% of them rely on technology to make the process of decision making, performance tracking and risk assessment better. (Thomson Reuter's Fintech, Regtech and the Role of Compliance Report 2021)
On average companies spend $5.47 million on compliance, while this number is $14.82 million for non-compliance. This means that being non-compliant costs more than twice the amount spent on retaining compliance. (GlobalScape The Total Cost of Compliance with Data Protection Regulations)
Regulatory monitoring can result in an average of $1.03 million savings for businesses. (GlobalScape's The True Cost of Compliance with Data Protection Regulations)
The non-compliance costs has increased by 45% starting from 2011 (Diligent Insights' How Compliance Officers See the World in 2020)
Implementation of automated security technology helps to reduce the cost of data breaches, on average, by $1.55 million compared to those companies who have not integrated automated security. (Hyperproof, 2021)
How to deal with compliance?
Now as you reached the final part
All this knowledge can be a bit overwhelming especially when it comes to the implementation part. But in today's digital world everything has become easier than ever. You can have a complete compliance solution that has ready-made courses specific to each industry. So, one software becomes everything that you need to stay compliant. You will no longer worry about following law changes or finding the best ways of implementing those changes in your business. Have one complete solution as an answer to all your questions and concerns.